Laminator
With GCC Laminator + LabelExpress, you will be able to quickly and easily perform all these label finishing steps in a single, integrated and automated process:
Laminating(optional) / Laser Kiss Cutting / Laser Bridge Cutting / Slitting (optional) / Rewinding to finished rolls.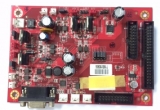 External Control Interface
The External Control Interface Board is an optional item that allows users to set up GCC machine for communication with external devices such as label printer and others to form an automatic production line.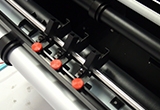 Slitting Module
Slitting module is able to cut the roll media into smaller webs.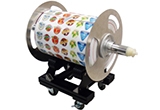 Paper Loading Cart
Paper loading cart is a handy tool that allows operators to put the media on the cart for the assembly of the media and the wind/rewind system.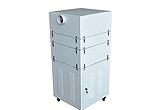 Entry-Level Fume Extraction System
GCC PA-1500FS & PA-1000FS, CE-certified fume extraction systems, are designed to remove the hazardous fumes and dusts during laser processing to protect the health of operators, eliminate environmental pollution and enhance the laser cutting.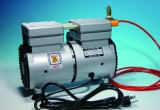 Air Compressor
A specially designed Air Compressor, by using an oil-less diaphragm, you help eliminate the harmful and damaging side effects of moisture on the laser optics. Also, provides the optimal air pressure your laser needs to blow away vaporized particles and helps prevents overheating. A must to keep lenses and mirrors clean to promote longer laser life.
LabelExpress
LE15
Model Number
LE15-20V93
LE15-30V
Cutting Width
380 mm (15″)
Work Area (Sheet) (W x L)
380 x 330 mm (15″ x 13″)
Max. Part Size (W x L x H)
Width
400 mm (15.7″)
Roll size
76.2 mm (3″) core with 300 mm (11.8″) diameter
Laser Source
Sealed CO2 Laser
Wattage
20W 9.3-μm
30W 10.6-μm
Drive
Closed-loop DC Servo Control
Roll to Roll
Stepper motor Control
Maximum Speed
1,530 mm/s (60ips) (for straight line cutting)
Speed Control
Adjustable from 0.1~100 %
(Up to 16 color-linked speed settings per job
Power Control
Adjustable from 0~100%
( Up to 16 color-linked power settings per job )
Alignment System
CCD Module
Distance Accuracy
0.254 mm or 0.1% of move, whichever is greater
Computer interface
Standard USB port
Operating systems
MS Windows
Display Panel
4-line LCD panel
Paper Feeding
Auto feed sensor, re-winding system, paper alignment control,
waste removal system
Vacuum System
Down vacuum for media fixation
Top vacuum for media surface cleaning
Process materials
Paper, PET, PP, TNT, BOPP, etc.
Safety
Class IV Laser Product Compliant with EN60825-1:2014
Class IV Laser Product Compliant with CDRH
Dimensions (W x L x H)
Machine

1,070 x 1,441 x 1,180 mm

(42.2 x 56.7 x 46.5 in.)

Shipping
1,320 x 1,660 x 1,490 mm
(52 x 65.4 x 58.7 in.)
Weight
Machine
250 kg
Shipping
362 kg
Facility Requirements
Electrical
100~240 Volt AC, 50/ 60Hz, Auto Switching, Max. 10 Amp
Power Consumption
MAX:1000W
Optional (LabelExpress Laminator)
Lamination width
MAX: 380mm (15")
Lamination Film (outer diameter)
MAX: 250mm (9.8″), with core 76.2mm (3″)
Media (outer diameter)
MAX: 300mm (11.8″), with core 76.2mm (3″)
*Specifications are subject to change without prior notice.